The HyQ® Court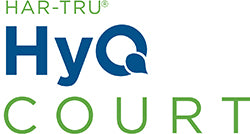 An evolution in irrigation
Har-Tru introduces an exciting new sub-surface system that makes it easier than ever to install and use irrigation on your court. The HyQ Court is a cutting-edge, upgraded system that takes advantage of technology for greater performance and results.
Increased speed and accuracy of irrigation
More innovation, less hassle
HyQ is easier to install and operate. High-tech advances make HyQ less complicated and more effective than other irrigation systems. HyQ takes fewer steps to install—saving contractors time and labor costs.
Easier installation saves time and money
A better experience for clubs and owners
The HyQ Court is an irrigation system with smarts. Its intelligent design optimizes installation and operation while increasing speed and precision. With HyQ, it's easy to see and understand the entire irrigation process at a glance.
More user friendly
Quickly see what's happening on the court
Easier installation
Increased accuracy
Reduce water usage and costs
Create a consistently playable surface
Eliminate down-time from watering
Decrease surface material loss from wind and erosion
Lower maintenance costs of sprinkling and rolling
Quickly drain courts after a rain
Easily adjust and customize water levels

Our new all-digital valve system
HydroCourt
HydroCourt is a self-regulating system that is fully adjustable to player preference and designed to water your Har-Tru tennis court from below the surface.
HydroCourts are constructed with six individually controlled cells. Each cell is monitored by a separate water-filled control box. Water enters the control box and flows through pipes to cells lined with a chemical-resistant 20 mm thick hyperlastic liner.
As the water level in the control box rises, the water level under the court also rises. You control the amount of moisture in the court surface by adjusting the water level in the control box up or down. It's that simple.
Key Features of HydroCourt
No down time. HydroCourt maintains optimal moisture at all times from below so you never have to shut your court down for watering.
Consistency. Unlike most above-ground irrigation systems, water coverage is uniform and even, keeping traction safe and consistent.
Water savings. HydroCourt provides only the amount of water needed to keep the court moist. This can save up to 60% of water usage when compared to conventional irrigation.
Reduced maintenance. Constant moisture keeps the surface firm and substantially reduces the amount of brushing and rolling needed to properly maintain the court.
Choosing the HydroCourt system means there is no sprinkler system to maintain.
Reduced cost of ownership. Consistent water prevents erosion and this lessens the amount of Har-Tru that needs to be replaced annually and over time.
HydroCourt Performance Tips
When optimum water level is achieved, mark that level in your water control box for future reference.
Use aggressive tools, such as the Har-Tru Gator Rake, daily for grooming the court.
With a simple pull of a plug, HydroCourt can be drained. This is helpful in tournament situations where there is a lot of rain, and it makes winterization easy.
Watch our video on how to adjust HydroCourt water levels.
Sprinkler Solutions
Choosing the right sprinkler head makes all the difference. We carry only brands and models of sprinkler heads, valves, and controllers that we know work well on Har-Tru courts. The sprinklers we recommend feature stainless steel sleeves and the latest in rotor and spray technology. Additionally, we offer controllers and valves to match all your irrigation needs.
A well-designed sprinkler solution will simulate a short rain. An eight-head system with proper pressure and volume can completely saturate your court in just two minutes. The result is uniform distribution without a lot of down time.
Why is the Right Sprinkler Important?
Improved coverage. Having the right heads will improve water distribution and make the court more consistent.
Reduced down time. Installing sprinklers that throw out more water can reduce the amount of time courts need to be closed for watering.
Fewer puddles. The right sprinklers distribute water more evenly and can reduce puddles that take a long time to dry.
Reduced system maintenance. Having the right heads and controller in place can eliminate the need for system adjustments.
Reduced maintenance. The right equipment will keep the court properly hydrated and this reduces the need for brushing and rolling.
Reduced cost of ownership. Consistent water prevents erosion and this lessens the amount of Har-Tru that needs to be replaced annually and over time.
Want More Information on Irrigation?
Please contact one of our knowledgeable sales representatives to learn more about irrigation options for your courts. We're happy to help you find and purchase the right system, and locate certified installers near you.