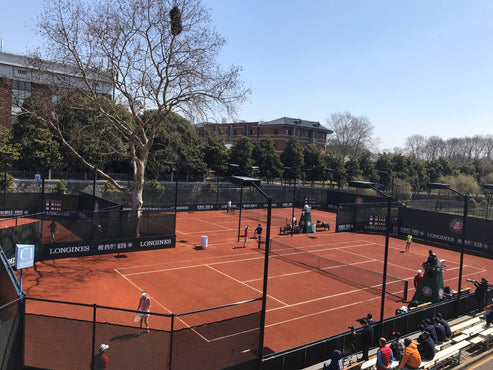 She came in an unknown and unranked, but left with a trip to Roland Garros
After having watched four consecutive days of junior tennis in Nanjing, China, with the wildcard into Roland Garros at stake.  It was on the last day right before the women's final, that I witnessed the humblest 13-year-old in the game of tennis! Wei Sijia, a rising 14-year-old junior player, unseeded, and knocking the number one seed out a day earlier to earn the right to play in the finals. This young lady simply walks into the stadium by herself, no coach, family, or friends, accompanying her. She finds a little space outside the court area and starts skipping rope, does a few foot work drills, smiles the entire time and has no flash or arrogance whatsoever! She is just simply here to play the game! After taking the court, she patiently waits for her opponent while seated in her chair playing in the red clay with her feet!
As the players started warming up, Wei appeared content and comfortable playing in front of the largest crowd all week. Her smile was continuous and she acted as she felt no pressure whatsoever. The first set was a blur, Wei took it 6-0. Her opponent was far less humble, throwing mild temper tantrums and arguing several line calls. To her credit, she bounced back to force a 3rd set (6-4). To start the 3rd, Wei went down 0-2, but on this day, she was not to be denied. It was if she found another level of play at this point. Wei went on the win the set 6-4 and capture the wild card. The most emotion shown was a huge smile and a fist pump on the last point! She quickly rushed to the net to shake her opponent hand, gracefully comforting her as the loss was a tough one.
As I sat on the corner of the court watching the boys warm up, it was out of the corner of my eye that I watched Wei exit the stadium as she entered it. Her racquet bag strapped to her back, a huge smile on her face, and a skip in her step! She came in as an unknown and unranked, but left with having earned a trip to Roland Garros! Stay humble my friend, stay humble.