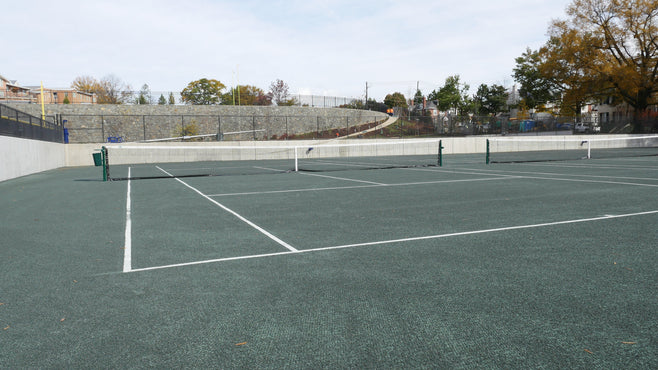 Being a part of Har-Tru creates a rather deep, even profound, sense of place in tennis.  Best as we can determine, the first patented, trademarked, and widely-circulated brand in tennis courts was En-Tout-Cas.  Inspired by crushed ant hill courts in South Africa, En-Tout-Cas was the world's first, fast-drying clay court, constructed by installing a processed, clay surface of crushed brick and burnt shale on a "quick-draining" foundation.  Established in 1909, En-Tout-Cas represented a significant improvement over grass and natural clay in that it allowed for more hours of play each day and more days of play each year.
In 1932, En-Tout-Cas' sole American agent commissioned the manufacture and construction of a new, fast-drying court from roofing granules. HAR-TRU, a patronymic acronym of its founder, was born.  The surface, a natural stone, was touted as beautiful green, glare-free, low maintenance, and fast(er)-drying, but likely most prepossessing was the fact that it was extremely consistent and readily available in a country that lacked good clay in many regions.  HAR-TRU took off and became synonymous with the lore of the sport and the greatest moments of the game.  This included serving as the surface of the US Open for three years at the height of the tennis boom.  There are now more than 25,000 HAR-TRU courts across the globe.
Har-Tru (the company) has made many improvements over the years to simplify maintenance and improve the performance of the court, but the raw material – timeless, pre-Cambrian, metabasalt – remains beautiful and unchanging.  One of the biggest improvements was the development of the HydroCourt system in the late 1980's.  Watering from below was a game changer, cutting maintenance and water usage by 50-60% while increasing hours of play.   The new method of irrigation was slow to gain acceptance and had its share of bugs, but now 70% of all construction includes this now tried and tested irrigation system.
This brings us to ClayTech, Har-Tru's newest court system.  In 2018, we are celebrating the 10-year anniversary of its introduction. In case you are not familiar with ClayTech, it consists of a needle-punch textile infilled and fully covered with HAR-TRU or red clay.  It looks like clay, feels like clay, and plays like clay, but maintenance and water requirements have once again been halved.  Despite this gain in ownership benefit, ClayTech has struggled to find its sense of place in the tennis market.
We are undoubtedly to blame for this.  To use a tennis analogy, it took us a long time to switch from the continental grip to the eastern grip.  We now have more than 100,000 hours of practice with those grips.  We know that to stay relevant we need to shift to a semi-western and a more open stance however, for tennis purists, these evolutions can be slow. 
The exciting thing is that despite our reticence to sell ClayTech over the "real" thing, it has been selling itself since day one.  Everyone who plays on it loves it.  The biggest challenge has been that there are not enough courts available to try.  For instance, we do not have a single court on Long Island where there can be a tennis court at every house in a given neighborhood.  ClayTech is absolutely perfect for this homeowner's market.  You only sweep and water when you are going to play.  You can leave for months at a time, sweep once or twice when you return, and be ready for play.  You can use it in all weather, even after a snow if you get the court clear. 
In conclusion, as we consider where ClayTech has been over the last 10 years, and where it is headed for the next 10, we feel a bit like H. A. Robinson must have felt in the early 1940's.  The benefits of this new (in tennis years) court system are significant and slowly but surely it is being, and will continue to be, embraced across the US, Canada, the UK and China at clubs, resorts, homes and schools.  Yes, it most definitely has started to carve out its place in tennis through game improvement and ease of court ownership.